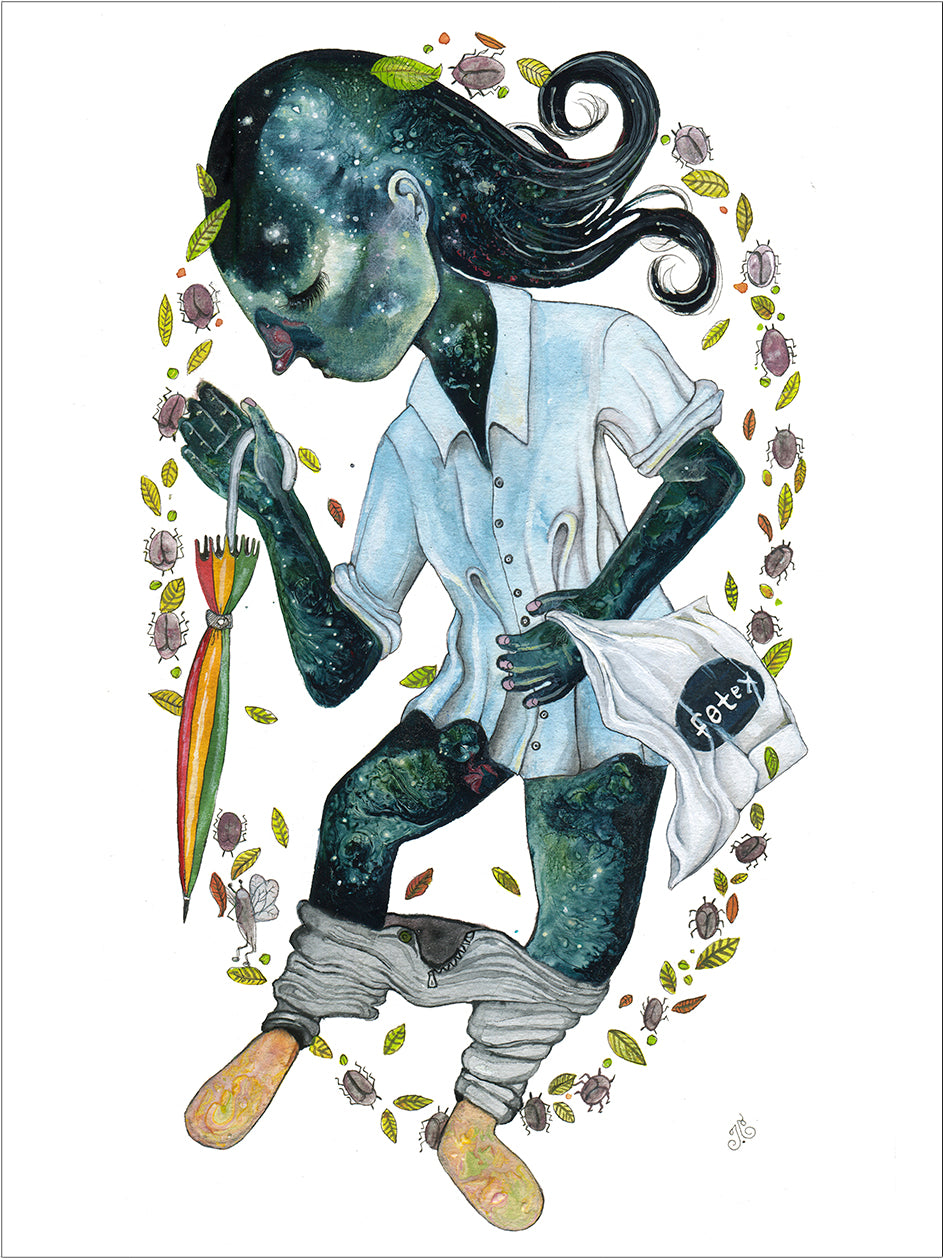 TRYING TO GIVE BIRTH TO EXPLODED KIDNEY IN THE BUSHES OUTSIDE FØTEX
ORIGINAL
Malet med akvarel og fineliner
400g Watercolor Paper
Signeret + info på bagsiden.
TRYING TO GIVE BIRTH TO EXPLODEDKIDNEY IN THE BUSHES OUTSIDE FØTEX - en dag fra mit liv.
You might not believe this story
It's in the bloody category.
Was just getting well and able to get groceries
Quickly wound up under the trees.
A sudden emergency, ran to the cemetary
Looking for privacy.
No puplic church toilet to find
Ran to a bush with a frantic mind.
The sky opened up full of fury, thunder and rain
Isn't this an embarrassing pain.
Pants down trying to birth this evil, what a composition!
This was an unidentified rare condition.
A five-double aneurysm
Really killed my opportunism.
Explosions in the kidney, sucha painful overflood
Will quickly fill your bladder with a gallon of drying blood.
****
TRYING TO GIVE BIRTH TO EXPLODED KIDNEY IN THE BUSHES OUTSIDE FØTEX
Forsendelse
Hurtigt afsted!
Joanna Jensen pakker din bestilling personligt. Dette sker oftest indenfor 1-2 hverdage. Joanna Jensen Illustration er en one-woman-army, som næsten aldrig er syg. Skulle der opstå sygdom og evt. forsinkelse af afsendelse vil du få besked!
Spor din forsendelse
Efter din ordre er afsendt modtager du et tracking nr. til din pakke - så kan du følge med i pakkens rejse online. Pakker ankommer som regel indenfor 1-2 hverdage efter afsendelse.
Kundeservice og returret
Ved Joanna Jensen Illustration er god kundeservice den højeste prioritet. Du har 2 ugers returret hvis du fortryder dit køb, og skulle der være sket et uheld under fragten så sørger Joanna selvfølgelig for en ny pakke eller pengene retur.